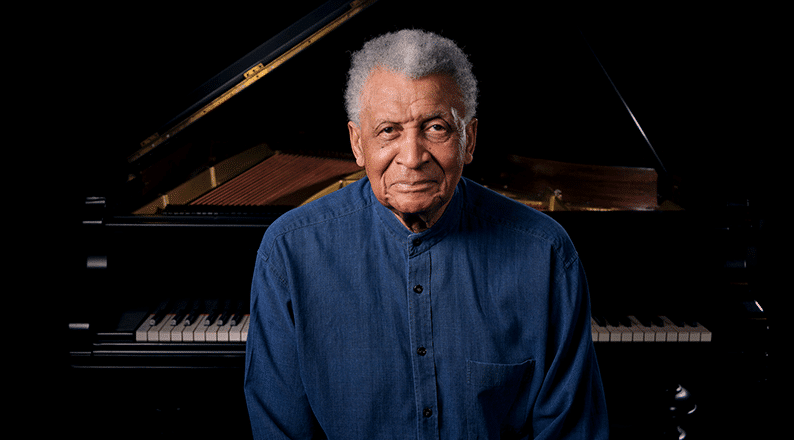 19 11 月

Great Pianist Abdullah Ibrahim will perform on the Fazioli F278 on loan from Showcase Pianos

CHAN CENTRE PRESENTS
Abdullah Ibrahim
"A master of understatement and balance"

The New York Times
South African jazz pianist, composer, improviser, and anti-Apartheid activist Abdullah Ibrahim is a musician "belonging to both an old world and a new one" (The Guardian). Born Adolph Johannes Brand in 1934 and raised in the Kensington suburb of Cape Town, Ibrahim's musicality found a voice at an early age, leading him to tour with local jazz bands under the moniker 'Dollar Brand'. In the late 1950s, during a pivotal and tumultuous time in South Africa's history, his group Jazz Epistles became the first Black South African group to record a full-length jazz album.
A self-imposed exile from South Africa saw a conversion to Islam and eventually took Ibrahim to New York to create a new jazz sound that drew from African Methodist church hymns, dancehalls, South African marabi, and the American jazz of Duke Ellington. Now known as Cape Jazz, the song-like harmonies inspire reflection, improvisation, and ambiguous ambiance that reference the emotions of Ibrahim's "musical middle-state" (The New York Times). Ibrahim's approach to melodies with expert understanding of past and present allows for an improvised musical conversation that seamlessly continues on and on.
For this concert, Ibrahim performs in a trio with Cleave Guyton (flute, piccolo, saxophone) and Noah Jackson (bass, cello).
View the Program