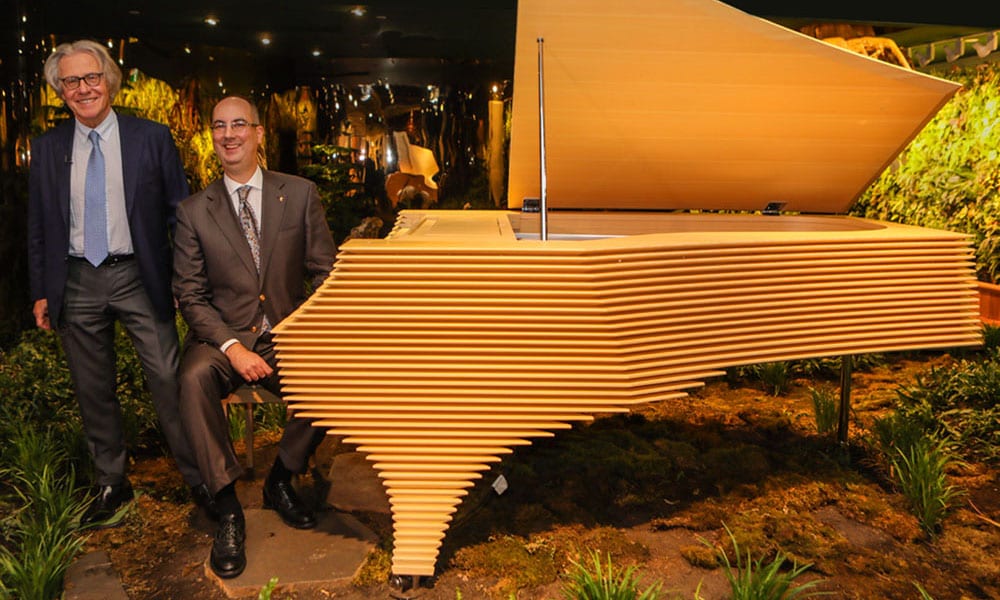 14 Feb

Paolo Fazioli visits the "Unwritten Exhibit"

2018 was a magnificent year for music!  For us here at Showcase Pianos, we had the wonderful opportunity to meet and connect with many world-class pianists, many aspiring piano students and with so many lovers of piano music!

Following that momentum, the year of 2019 started off on a great note!

On January 30th, Mr. Paolo Fazioli, founder and president of Fazioli Pianos visited the gorgeous city of Vancouver, BC.

Mr. Fazioli has been in Vancouver various times to meet with Showcase Piano's owner and friend, Manuel Bernaschek. But, what was so special about this visit to Vancouver?

This time, Mr. Fazioli made a special visit to Oakridge Centre's "Unwritten Exhibition." An exhibition featuring the beauty of architecture and design. There, it showcased the stunning Kengo Kuma Fazioli grand piano. The piano was commissioned by Westbank Corporation through Vancouver Fazioli dealer, Showcase Pianos.

Designed by world renowned Japanese architect Kengo Kuma, it features the same excellent top-level engineering of a Fazioli piano and boasts a bold unique design utilizing 40 bevelled wooden planes.

Upon arriving at the "Unwritten Exhibition," Mr. Fazioli was welcomed by many VIPs who came to meet him. It was a fun and lively evening for everyone who attended!

Mr. Fazioli thoroughly enjoyed his visit to Vancouver and will visit us again soon. In the meanwhile, we wish to share our passion for music and pianos with others – Giving them the very best to take their performance to the next level!