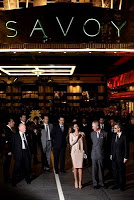 09 Nov

Four European piano factories

Posted at 21:11h

in Uncategorized

2 Comments

[social_share]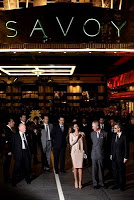 A tour of four European piano factories
To get ourselves to Germany, Judy and I cashed in many of our British Airways points – meaning of course, that we would have to stop in London. I only wanted to spend one day in London, before my allergies started acting up – I have a reaction to extremely high prices. The fact that we stayed at the Fairmont Savoy didn't help, but how could I resist – – – one of the most beautiful hotels in the world that has been closed for 3 years, and reopened on 10.10.10 after undergoing a $350 million renovation.
You'd figure the Savoy would have saved a few dollars to buy a Fazioli, after all their art-deco logo fonts match so well! But it is not to be – at least not for now. Terry Lewis, manager of London's Fazioli dealer, told me the story of how the hotel had originally decided to put their old piano back in – but when they were giving a pre-opening preview to a group of critics, one of them was shocked that the centre-piece of this amazing hotel was an old worn out piano. Upon seeing the review, hotel management quickly purchased a Kawai, which is at least a step in the right direction.


[Photo: This photo was taken the night after we left.]


C. Bechstein: Full speed ahead
Bright and early on Monday morning Frank Hagemann – the sales director for C. Bechstein – picked us up at our hotel in Berlin, and we made our way to the main factory in Seifhennersdorf. This is where both the C. Bechstein and the Academy Bechstein products are made by 160 workers. It is a very small town, near the Czech border.
I appreciated that Mr. Hagemann always referred to his dealer network as his 'partners', and often talked about working together with us as a team.
Our entire visit at this factory gave us the sense that Bechstein has a great commitment to flawless quality. They have made tremendous investments into production technology, having full confidence that their market share will continue to expand in leaps and bounds.
In 1986, when German entrepreneur and master piano-maker Karl Schulze took over as President and CEO of C. Bechstein, annual sales were at $5M. Today they are at $33M. Whereas some of the key European manufacturers have sadly experienced serious shrinkage, like Petrof, Schimmel, and even Steinway, it seems Bechstein has managed to increase its foothold in the market. 'Full speed ahead' indeed!
[Photos: New state-of-the-art CNC machines turn items in top left picture into items in top right picture. Bechstein factory in
Seifhennersdorf, Germany.
Frank Hagemann explains the benefits of using a CNC machine to put the pins on the bridge. Different veneers used by Bechstein. Fallboard for Bechstein Academy. C. Bechstein Model Concert 8 in beautiful finish. Beautiful historic town of Seifhennersdorf can be seen from factory windows.]
W. Hoffmann: A product in great demand
On Monday night we crossed over into the Czech Republic by car, and ended up in a beautiful yet tiny hotel in Hradec Kralove – a city that has been home to the piano factories of Petrof and Bohemia for decades. Dinner was arranged for us with master piano-maker Uwe Streubel and his wife Anja, who both work in the factory.
You should know that this was probably the fifth day in a row that I could not control myself and ordered wiener schnitzel with french fries. That, and the little 'bed & breakfast' style hotel reminded me of the places my grandmother used to take my sister and I to when we came to Germany as kids.
C. Bechstein purchased the Bohemia factory in 2007, and still employs Bohemia's previous owner, Mr. Kremenak. Bechstein has also invested more than $10M in updating the production technology of this factory, which currently makes the W. Hoffmann piano. It was incredible to see how they've been able to build up this factory to its current state in less than 2 years – and so quickly have a product that is in great demand all over the world.
The factory currently employs 185 workers – about 40 of which had previously built pianos in the Petrof factory. Uwe Streubel, who oversees production in the Czech Republic for Bechstein, spoke to us with a true heartfelt sadness about the great reduction Petrof's output: "They were the biggest in Europe, and had 550 workers. Today there are around 80 workers left, and with a work-week that is only four days long – two days to work on pianos, and two days for kitchen cabinets."
The W. Hoffmann factory is already producing pianos at maximum capacity, and most of the 185 factory workers are working long hours six days a week, and sometimes half of the seventh day.
W. Hoffmann is an amazingly well built piano. Since all of the important oversight, training, and technical work is carried out by a number long time master piano-builders from Germany, the result is a piano of surprisingly good quality. The fact that these pianos are produced in the Czech Republic just two hours from the C. Bechstein factory means that they are also surprisingly affordable – making this a piano that is sure to give giants like Yamaha a run for their money.
[Photos: W. Hoffmann factory manager and master piano-maker Uwe Streubel shows how the tuning-pins need to have the right torque on a grand piano, how the action parts are put into an upright piano, and explains how delicate the work of putting in dampers is. Middle left shows a pounding machine that plays each piano very loudly. Bottom two are taken in the Bechstein Piano centre in Berlin.]
Grotrian: Steady and consistent
On Wednesday night we were picked up in Hannover and brought to Braunschweig by the CEO of the Grotrian piano factory, Burkhard Stein. For those that don't know why we call it the 'Grotrian' piano while the rest of the world calls it a 'Grotrian-Steinweg', here's the quick history lesson: In 1835 the company was founded by two people, financier Fredrich Grotrian and piano maker Heinrich Steinweg. In 1851, after having made nearly 500 pianos, Heinrich Steinweg sold his shares to Mr. Grotrian, immigrated to the US and changed his name to Henry Steinway. In 1853 he founded Steinway & Sons in New York.
A century later, as piano factories started recovering after the World War II, Grotrian did not renew their name patent soon enough. Steinway took advantage of that and sued them over the use of the name in different courts. Because it was easily proven in court that Grotrian had the rights to the 'Grotrian-Steinweg' name, they won the case everywhere – except in the US, where their patent wasn't renewed in time. In North America they drop the 'Steinweg' portion of the name.
In recent years, a growing number of piano rating books and websites have placed 'Grotrian' above the US-made 'Steinway & Sons', including the Larry Fine in his well-known books 'Piano Guide' and 'Piano Book'. One thing I found, though, in talking to our respective tour guides in the different factories about the ratings systems that exist around the world – it seems like there is a common sentiment among the top quality piano factories: a person should not rely on 'ratings' to choose their piano – the should sit down and listen to the sound and feel the touch.
The Grotrian piano factory employs 60 workers, and has been in its present location since 1974 when their old 'WWII bombed out' factory was sold to the government. Those old buildings are now used by the university.
The hallways are lined with photos and artifacts supporting their long history of making quality pianos. One that stood out in my mind is German musician and composer Clara Schumann, a pianist that was considered to be one of the most distinguished pianists of the Romantic era. Clara Schumann, who appeared on the 100 Deutsch Mark bill, loved Grotrian pianos and performed exclusively on them.
The selection room had on display one of each of their grand piano models, and also the very first Grotrian-Steinweg ever made. As Mr. Stein toured us around the factory, we learned about the care that goes into making the Grotrian pianos. Everything inside a Grotrian comes from Germany, making the quality of the end result very high and consistent.
[Photos: Grotrian factory today. Antique piano refitted with a new Grotrian upright inside. Picture of factory building until 1974.
Factory CEO Burkhard Stein points out aspects of the construction of the rim.]

[Photos: The cross section of a piano. Specially designed rim press 'one size fits all'. Beautiful new Model 124 'Classic' in Walnut. First piano built by Heinrich Steinweg. ]

[Photos: A great amount of time must be spent to position dampers properly in both uprights and grands. A special anniversary model with a built in hygrometer. What was left of the old Grotrian-Steinweg factory after WWII has been used as a university since 1974.]
Fazioli: For the love of the piano
From Germany we moved over to Italy, where we spent a night in a new Venetian hotel designed by Philippe Starck that we had seen on CNN just a few days before.


Our next visit was to the Fazioli factory in Italy for the international dealer meeting. It was interesting to see how many Fazioli dealers had been recently offered the opportunity to represent another lucrative piano brand – but with the only condition that they drop the Fazioli line.
The Fazioli dealer in Germany has sold more than 300 pianos for Fazioli over more than 25 years. Owner Dieter Fischer has been offered to carry the Steinway line on many occasions. I was impressed to see how he, and many dealers who had been offered the same, favoured supporting Mr. Fazioli's dream and passion, knowing that this choice would also bring less profit and more opposition – at least in the short term.
A factory tour followed the meeting, and a feeling of being part of something truly special permeated our entire visit. As Paolo Fazioli himself walked his dealers around the production floor, you could see the excitement in his eyes as he described what innovations he was working on, and what makes his pianos special. You'll often hear him say with pride, a big smile, and an Italian accent: "No one else is doing this!"
Most of us could not help but feel that we were witnessing history being made before our very eyes.
Also among the dealers were some piano makers and rebuilders, including the new dealer for Quebec – the world famous Andre Bolduc. Bolduc is responsible for making piano parts for many of the worlds piano brands, including the pinblock for Fazioli. It was incredible to see these very ones point out so many areas of the construction of a Fazioli where the quality and attention to detail goes so far beyond what any other maker in the world is doing – makers that the world (including me) holds in high regard.
The icing on the cake of our visit was a flawless performance by the incredibly talented Daniil Trifonov, who only weeks ago took the third place award at the 2010 International Chopin Competition in Warsaw.
Ninteen year old Daniil is originally from Russia and played on the F278 Fazioli that was used at the competition. Daniil is unquestionably talented and incredibly passionate about beautiful music – someone you are sure to see have a strong performance career in the coming years.
At dinner, it was an honour to have been invited to eat at the same table as pianist Daniil Trifonov, Paolo Fazioli, and the most prominent Fazioli dealers in the world: Terry Lewis (London), Dieter Fischer (Germany), Alec Weil (Japan), and Warren Sly (New Zealand).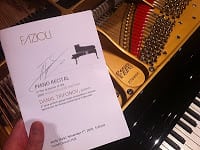 [Photos: Pianist Daniil Trifonov with Paolo Fazioli. Program of performance at Fazioli Concert Hall signed by Daniil Trifonov, next to the F278 from the Chopin Competition.]
[Video: Daniil Trifonov plays La Campanella as one of his encore peices after a flawless performance Chopin concert at the Fazioli Concert Hall]
[Photos: Andre Bolduc of Bolduc Pianos and Paolo Fazioli talk about the wood used for the soundboard ribs.
Paolo Fazioli talks about some modifications to the way he makes the dovetails for the beams. Dieter Fischer of Fischer Pianos uses wood shavings to help Manuel Bernaschek look a little more 'hip'.]
[Photos: Pianist Daniil Trifonov, with Terry Lewis, Managing Director of Jaques Samuel in London, and Fazioli Marketing Manager Elena Turrin. Andre Bolduc, builder of pinblocks for Fazioli pianos, describes their unique construction. Paolo Fazioli together with Fazioli F212 in dark Amboina finish and special legs for customer of Showcase Pianos. Paolo Fazioli and son Luca listen to Daniil Trifonov describe the beautiful sound of the Fazioli.]
[Video: Paolo Fazioli demonstrates a new optional feature available on Fazioli pianos: the new slow fall lid.]