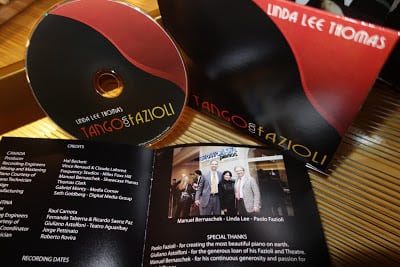 15 Feb

Linda Lee Thomas releases new CD: "Tango Con Fazioli"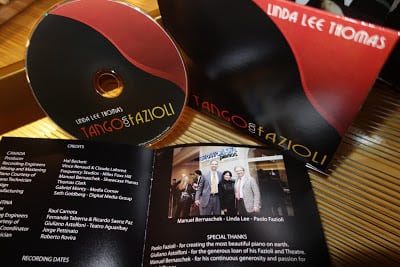 VANCOUVER, BC – Linda Lee Thomas is a name that every Vancouverite knows – she has been the principal pianist of the VSO since 1972. She has something common with Showcase Pianos owner Manuel Bernaschek: They both love Fazioli pianos. In February of 2013 she released her new CD: "Tango Con Fazioli".
"The first time I played this amazing instrument, I had the same feeling I had when hearing Tango for the first time. It fulfulled my every wish and dream. It responded to my touch as a tango dancer or another musician would." says Thomas in her CD jacket.
As "Chamber Musician Supreme", she was Artistic Director of Masterpiece Music, the Vancouver East Cultural Centre¹s hugely successful chamber music series for 17 years. In 2000, she was inducted into the B.C. Entertainment Hall of Fame for her outstanding contributions to the industry.
"On May 1st, 1988, my addiction to Argentine Tango began. Astor Piazzolla and his Quintet were playing in Vancouver and I had been encouraged by many to go. Skeptically I went – reluctantly I left. That night, the music of tango lured me under its spell."
Her passion is the music and dance of Argentina – the Tango. Since her bold emergence onto the international tango scene, she has become one of Canada¹s foremost tango musician, performing and recording with Argentine bandoneonists Daniel Binelli and Nestor Marconi. She is affectionately known as "The Reina de Tango".





For the past decade she has been busy playing with her Tango Trio – TANGISSIMO – fast becoming known all over the world. Featuring Ed Henderson on guitar and Miles Foxx Hill on bass, they have played to thousands of people in live concerts, broadcasts and recordings. Their CD TANGISSIMO LIVE was chosen as one of the best releases of 2002 by Radio-Canada¹s ESPACE MUSIQUE. They were taken to Buenos Aires in 2006 by INFINITY FILMS to shoot the documentary – CHASING THE TANGO HIGH for BRAVO TV. Their CD of the same name was released in October of that year. It features live recordings from Buenos Aires with Tangissimo and the tango legends of our time.


Always chasing the next tango project, she released her first solo piano album – TANGO MAGIC – in the spring of 2008. Last year she was performing and recording in Buenos Aires to great success with the harmonica sensation Franco Luciani and the famous violinist Mauricio Marcelli. Each year she returns to her beloved Argentina where she has earned a reputation of being one of the best tangueras – both at the piano and on the dance floor.


This year she has embarked on another recording project – TANGO CON FAZIOLI. She is putting together two of her favourite things – Tango and Fazioli pianos. The first installment for this recording was a live concert on June 10th, 2012, at the Vancouver East Cultural Centre. Together with Joan Blackman, Violin – Jonathan Goldman, Bandoneon – Ed Henderson, Guitar and Dylan Palmer, Bass, they played many of the original quintet arrangements of Astor Piazzolla. One of the highlights of this show was Piazzolla's Ave Maria. Jon Washburn did the exqusite arrangement for Roger Cole, Oboe and the Men of the Vancouver Chamber Choir. And in August she will be returning to Buenos Aires to record with tango musicians there. On a Fazioli – of course.